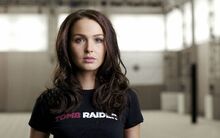 Camilla Luddington (born December 15, 1983) is an English Actress. She portrays Lara Croft in the Survivor Timeline providing voice, facial and motion capture, she holds the distinction of being the first person to provide both of these for Lara.
Luddington originally went into the audition for Lara thinking she was auditioning for a project called "Krypted" with a character called Sara. She wore shorts and boots before she knew what the audition was for, because the character reminded her of Lara Croft.
She screamed in her car when she found she got the role of Lara Croft.
Luddington gave birth to her first child, a daughter named Hayden, in April 2017.
Appearances
Edit
External links
Edit
Ad blocker interference detected!
Wikia is a free-to-use site that makes money from advertising. We have a modified experience for viewers using ad blockers

Wikia is not accessible if you've made further modifications. Remove the custom ad blocker rule(s) and the page will load as expected.