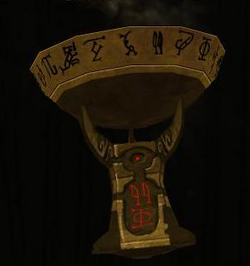 The Chalice of Torment is one of the Relics in Tomb Raider: Anniversary. It is found in the level Lost Island - Natla's Mines.
Information
Edit
This chalice was used to collect split blood of sacrificial virgins. Once the blood was collected, the chalice was used as a mixing vessel where other herbs and powders were added to turn the liquid into a psychotropic fluid used by Atlantean priestess-judges to invoke spirit journeys.
Ad blocker interference detected!
Wikia is a free-to-use site that makes money from advertising. We have a modified experience for viewers using ad blockers

Wikia is not accessible if you've made further modifications. Remove the custom ad blocker rule(s) and the page will load as expected.