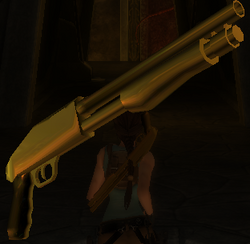 Golden Shotgun is a weapon appearing in Tomb Raider: Anniversary and Lara Croft and the Guardian of Light.
Appearances
Edit
Tomb Raider: Anniversary
Edit
Golden Shotgun is unlocked when all time-trials have completed in Lost Island level. The Golden shotgun one-shot kills on every enemy, including the bosses, and has unlimited ammunition.
Lara Croft and the Guardian of Light
Edit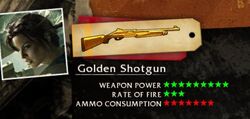 The Golden Shotgun appearing here is the Benelli Nova, and the most powerful shotgun in Lara Croft and the Guardian of Light. The Golden Shotgun is unlocked by completing the Score Challenges in the Mirror's Wake level.
Rise of the Tomb Raider
Edit
After game's 100% completion, Lara is rewarded a golden shotgun named Thunderclap. It is gilded break-action shotgun that deals heavy damage.
Ad blocker interference detected!
Wikia is a free-to-use site that makes money from advertising. We have a modified experience for viewers using ad blockers

Wikia is not accessible if you've made further modifications. Remove the custom ad blocker rule(s) and the page will load as expected.