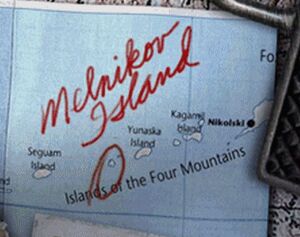 Melnikov Island, in Alaska, is where Lara Croft visits to search for the golden Mask of Tornarsuk. She also discovers an old Russian base.
In real life the names of the islands encircled are: Amukta Island, and Chagulak Island.
Ad blocker interference detected!
Wikia is a free-to-use site that makes money from advertising. We have a modified experience for viewers using ad blockers

Wikia is not accessible if you've made further modifications. Remove the custom ad blocker rule(s) and the page will load as expected.