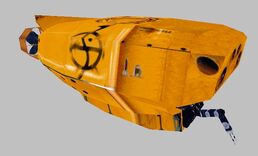 This minisub was used by the Fiamma Nera in their attempt to recover the Seraph from the sunken ship, the Maria Doria.
Lara, escaping from Marco Bartoli, catches a ride on the sub into the ocean but is noticed by the pilot who attempts to get her off with the sub's mechanical arms. Before the mechanical arms can finish their work, a Shark makes the pilot go off course and the sub crashes into a rock wall, allowing Lara to escape from the mechanical arms.
Appearances
Edit
In-Game Appearances
Edit
Tomb Raider II: Starring Lara Croft
Edit
Ad blocker interference detected!
Wikia is a free-to-use site that makes money from advertising. We have a modified experience for viewers using ad blockers

Wikia is not accessible if you've made further modifications. Remove the custom ad blocker rule(s) and the page will load as expected.