'Shadow of The Tomb Raider' - Official Gameplay Trailer E3 2018
Shadow of the Tomb Raider is the 2018 sequel to Rise of the Tomb Raider, and third and allegedly final installment in the Survivor Timeline.
The game released on September 14th, 2018 on PlayStation 4, PC and Xbox One.
Lara Croft travels to Mexico in order to take down a Trinity cell along with Jonah Maiava, While traversing a treacherous cavern, Lara is trapped though she manages to free herself. While climbing to get back onto the trail, Jonah informs Lara via radio of the imminent arrival of a V.I.P., Trinity member Dr. Dominguez.
Lara find a site Trinity had already found. Lara took pictures of the site for later study, and Jonah joins her. Whilst inspecting the elaborate stone work, including a damaged portion of the monolith, Lara inadvertently triggering the explosives left by Trinity, leading to temple's collapse and escaping. The pair head back to the town of Cozumel, during the Cinco De Mayo festival. Lara informs Jonah that she has deduced that the clues lead to Peru.
Trinity member Dr. Dominguez is in town, seeking a temple Lara tails him making her way through the town and eventually into the nearby jungle. Finding another entrance, Lara finds a chamber inside, with a mural depicting several cataclysms, a tsunami, a storm, an earthquake, and a volcanic eruption. Finding a ceremonial Dagger, Lara realizes that it's what Trinity is after. Jonah urges her to reconsider, in case something bad happens. Lara intercepts a Trinity transmission that Dominguez is near. Lara impulsively takes the dagger. A sudden tremor causes part of the mural depicting the tsunami to crumble and break. Lara realizes she's made a mistake. She calls Jonah on the radio and warns him to get to higher ground.
Lara makes her way outside, fighting through a group of Trinity solders. One soldier catches Lara off guard and she drops the dagger. Dominguez arrives and tells his men not to hurt Lara. He asks for the box as well, Lara brushes him off saying it's safe. Dominguez realizes that Lara doesn't have the box, and berates her for her actions, telling her that she has set the apocalypse into motion, Dominguez and his men leave in a helicopter. Lara is horrified to see a tsunami rushing towards her. She manages to get to higher ground, she finds Jonah and tells him they need to get to Peru now or else Dominguez will get the box first, Jonah yells at Lara that they need to help the people who are trapped before they do anything, leaving Lara to look horrified at the destruction she has caused.
After managing to get a plane, the pair head to Peru, near their destination the second cataclysm hits, the storm, and causes their plane to rip in half separating Lara from Jonah, and both sections of the plane crash. Lara awakens, and makes her way through the dense jungle after finding some gear from the section of plane that crashed nearby. Lara receives a transmission from the pilot who had also survived the crash and heads deeper into the jungle. She finds the pilot, dead having been eaten by a jaguar. Which Lara keeps focused on, before she is attacked by a second. Both leave, and Lara presses on. She later encounters the jaguars again, she kills one, and the other takes it's body and leaves. Shortly after, Lara finds Jonah, and the two press on searching for civilization. While trying to get through a collapsed entry, Lara is attacked the by the jaguar again, which mauls her back, though she manages to kill it. Lara and Jonah make camp for the night.
Lara dreams of her childhood, searching through Croft Manor, for hidden secrets. She finds her mother's atelier, which even has her jewellery box inside, finding her mother's bracelet. Lara hears a gunshot and rushes to her father's study, where she finds him slumped over his desk, dead.
Lara awakens, to find Jonah already up. The pair press on and find the town of Kuwaq Yaku. They go to a local bar and meet Abby, a mechanic and de facto mayor of the town. They join her for a drink and ask her about any local ruins, showing her photographs. She says she recognizes one of the symbols from a nearby temple. Lara heads to the temple, telling Jonah to stay and rest, having sensed a spark between Jonah and Abby.
Lara heads to the temple where she is later joined by Jonah. finding the symbol Lara realizes that the mural has been tampered with and covered, and sets about restoring it. Finding a passage through, she sees another temple, and makes her way there. Lara finds a mural depicting a journey, starting at a jaguar's mouth. Abby calls Lara on the radio and tells her that the Jaguar's mouth is back at the temple she started.
Lara heads back to the temple through the trees and sees Trinity soldiers being slaughtered by a strange creature. Getting back to the temple, she finds Jonah and Abby have uncovered stairs leading deeper down the temple. Stepping onto the path, a trap separates Lara from Jonah and Abby. Abby says she might know another way around.
Lara heads on an finds several challenges to be conquered, emerging at the other side, she finds a young boy in Mayan style clothing, being advanced upon by a man in Mayan armour, bearing the mark of Trinity. Lara kills the man, and frees the boy. Several other soldiers advance on them but they are quickly dispatched, by the boy's mother and her men, identifying the boy as Etzli. Lara is taken prisoner, a bag placed on her head to stop her from identifying the path.
Lara is taken to a room, where she is addressed by the woman who captured her, introducing herself as Unaratu. She the rightful queen of Paititi. She asks what Lara is doing, and Lara truthfully tells her that she is seeking the Silver box of Ix Chel, in order to stop Trinity from seizing the power to remake the world. Unuratu allows Lara to attempt to find the box, though she reveals that they have also captured Jonah, and insists he stay in case Lara is lying. She offers Lara a change of clothes allowing her to blend in, and leads her through the town to the entrance to the sacrificial chamber. In town they encounter a small procession, for Unuratu's challenger to the throne, Amaru. Lara is shocked to discover that it's none other than Doctor Dominguez.
Unaratu, gets distracted by a man who seeks to kill Dominguez, and stops him, telling Lara where to meet Etzli in order to find the entrance to the sacrificial temple. Joining the young prince at the temple entrance, he tells Lara to follow the smell of death, and that she can use the irrigation system to get out when she's done. Lara makes her way inside and finds thousands of people the cult has sacrificially slaughtered. Deeper into the cavern, Lara finds an item that is shaped like a serpent and figures it's what Trinity are looking for. Lara finds the irrigation system and leaves.
Arriving back in the village, Lara witnesses Etzli being captured by the cult, and is forced to flee as they chase her.
Characters
Edit
Post-Humous
Edit
Factions
Edit
Locations
Edit
The game will retain the traditional third-person gameplay of previous entries in the series. More traversal techniques will be returning to the series, such as using a grapple to wallrun and abseil. Swimming will be expanded upon with Lara now able to swim deeper compared to the restrictive swimming in Rise. This is free swimming without a rebreather, with pockets of air highlighted so players can breathe. These indicators can be turned off to make swimming more perilous.[1]
Combat once again features Lara able to carry four weapon types (Bow, Pistol, Shotgun, Rifle/Automatic). The official trailer appears to indicate that Lara will once again be able to use rope arrows in combat. Stealth also returns, featuring a new mechanic of using mud as a form of camouflage.[2] There will also be enemies in water which can attack Lara while she is swimming. Melee combat may also be expanded upon as Lara will now wield a machete as well as her climbing axe.
Challenge Tombs return, now being larger and more deadly than ever, with each tomb requiring specific traversal techniques to access and solve.
The game will reportedly have one of the "biggest hubs ever created in a Tomb Raider game," and "more tombs than ever."[2] The marketplace of Paititi is where Lara can barter and craft items, including outfits and weapons.[3]
An Immersion Mode will reportedly enable players to turn off English voices for background characters in order to have characters speak in their native languages.[1]
Players will be able to unlock outfits from older games in the franchise, much like in Rise of the Tomb Raider. Those known so far include her appearances in Tomb Raider II and Tomb Raider: The Angel of Darkness.[4]
At least part of the game will be playable at Croft Manor, with players taking control of Lara as a child.
Difficulties
Edit
Players will be able to change the difficulty of different game aspects, including combat, puzzles, and traversal. For puzzles, Lara will lose her Survival Instinct ability at higher difficulties, while traversable ledges and the like will no longer have their telltale coloring and scuff marks. Players can change the difficulty for all aspects at once, or customize each aspect individually up to Hard. Very Hard is its own setting and cannot be altered.[1]
Smart and Resourceful (Easy)
Combat Difficulty:

Aim assist enabled. Ammunition boxes are plentiful.
Enemies have lower health, do less damage, and have illuminated silhouettes.
Exploration Difficulty:

Obvious white paint on critical path. Longer saving grab timer.
Base Camps are lit.
Puzzle Difficulty:

Lara gives direct hints on the next action to perform.
Interactable objects are highlighted in Survival Instincts.
Objects necessary to progress highlighted in blue during Survival Instincts.
Longer window of opportunity for timed mechanics.
Rite of Passage (Normal)
Combat Difficulty:

Ammunition boxes are rare.
Enemies have normal health and damage. Enemies have illuminated silhouettes.
Exploration Difficulty:

Discreet white paint on critical path. Normal saving grab timer.
Base Camps are unlit.
Puzzle Difficulty:

Lara gives general hints on the next action to perform.
Interactable objects are highlighted in Survival Instincts.
Normal window of opportunity for timed mechanics.
One With The Jungle (Hard)
Combat Difficulty:

No health regeneration in combat. Ammo boxes are rare.
No hit marker on reticle.
Enemies have increased health, do more damage, and locate Lara more quickly.
Enemies are not highlighted in Survival Instincts.
Exploration Difficulty:

No white paint on critical path. Reduced save grab timer.
No Survival Instincts during exploration. Base Camps are unlit.
Puzzle Difficulty:

No hints given by Lara. No Survival Instincts. Shorter window of opportunity for timed mechanics.
Deadly Obsession (Very Hard)
Combat Difficulty:

No health regeneration in combat. Ammo boxes are rare.
No hit marker on reticle.
Enemies have increased health, do more damage, and locate Lara more quickly.
Enemies are not highlighted in Survival Instincts.
Exploration Difficulty:

No white paint on critical path. Reduced saving grab timer.
No Survival Instincts during exploration.
Base Camps are unlit and require resources to light. Game saves only at Base Camps.
Puzzle Difficulty:

No hints given by Lara. No Survival Instincts. Shorter window of opportunity for timed mechanics.
New Game Plus
Edit
Once a player has completed Shadow of the Tomb Raider, they unlock the ability to play through a mode with all-new features called New Game Plus. Here, the work they have done will carry over into the next play-through. This includes Skills, Weapons, Outfits, Equipment Upgrades, and Gear. New Game Plus also unlocks three new Paths that Lara Croft can master, each tailored to fit a particular gameplay style:
Path of the Serpent: features an emphasis on stealth and subterfuge. Players take down enemies using sound and decoys to sow chaos. Mud and camouflage lets players lash out before slipping back into the shadows.
Path of the Jaguar: features an emphasis on hunting and combat, focusing on agility and close-ranged combat via knife takedowns.
Path of the Eagle: features an emphasis on traversal and resourcefulness. Observe enemies from afar, scouting out to plan the next attack. Traverse with ease, attacking enemies from long range.
Each chosen path will unlock a variety of exclusive rewards that further compliment playstyle and gameplay. By selecting a path, players unlock mastery skills featuring a variety of unique new abilities. On top of new skills available, chosen Paths feature unique themed weapons and outfits.[5]
Special Editions
Edit
Several different editions of the game were released, each with different bonuses.
Standard Edition: Comes with the game.
Digital Deluxe:
Croft Edition: Comes with multiple pre-order outfits, Season Pass, and digital soundtrack.
Ultimate Edition: Comes with season pass, bonus outfits, season pass, digital soundtrack and a 12" statue of Lara Croft
Downloadable Content
Edit
There are also multiple DLCs planned to be released monthly after the release of the game, which can be purchased at the beginning with a Season Pass.
Hints for Plot
Edit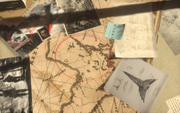 The end of Rise of the Tomb Raider shows a map of the Yucatan Peninsula in Mexico, implying that Lara's next adventure will involve Mayan culture, much like in Lara Croft and the Guardian of Light.
An ID card belonging to Kennard Montez can also be seen beside the map. Montez is an agent of Trinity who Lara had several encounters with during the events of the novel Tomb Raider: The Ten Thousand Immortals. He is also believed to be the man who infiltrated Croft Manor, attempted to assassinate Lara, and stole the book on Kitezh during the early events of Rise of the Tomb Raider.
Starting on March 19th, the official Tomb Raider website launched Shadow of the Tomb Raider: Path of the Stars, a puzzle game to promote the upcoming release of Shadow of the Tomb Raider. A new puzzle is to be added each Monday, leading up to the full reveal on April 27th. When each puzzle is completed 5000 times, a new clue unlocks. So far, there has been two puzzle pieces, and an audio log between Lara and Jonah discussing a clue to a hidden city, however it states that the game will take place in the Amazon rather than Mexico. The second audio file reveals that Trinity are seeking a Creation God. The final puzzle reveals the constellation of Orion.
Development
Edit
Square Enix inadvertently confirmed the game to be in early stages of development as early as at least June 2015, during E3 of that year[6].
In August 2016, Ian Milham, who served as the Art Director for the Dead Space series and Creative Director of Battlefield Hardline, was hired at Crystal Dynamics to serve as the director for the next Tomb Raider game [7]. However, in September 2017, Milham departed from Crystal Dynamics to work in the studio Outpost Games. [8]
It was announced that Rhianna Pratchett would be leaving the Tomb Raider series in January 2017, as such, it is unknown if she contributed to the game.[9]
In December 2017, it was officially announced that a new Tomb Raider game was in development, and news would be shared in 2018. It was also stated that there would be a short window between the official announcement and release of the game. [10]
On March 14th, The Tomb Raider website was changed to show an abstract image of what looked to be a solar eclipse, with the time and date March 15th, 2018, 6:00 AM PDT, confirming the official reveal for that date. [11] The trailer did indeed release as scheduled, offering a release date of September 14th, 2018, as well as an official full length reveal trailer for April 27th.
Camilla Luddington confirmed that she would be returning to portray Lara Croft via her personal Twitter.[12]
The game is being developed for PlayStation 4, Xbox One and PC, launching on all platforms simultaneously.
Shadow of the Tomb Raider went gold on July 24th 2018.
Unpatched ending
Edit
For those who purchased a physical copy of Shadow of the Tomb Raider and beat the game before downloading the Day One patch, an alternate post-credits ending can be seen. The dialogue remains essentially identical, but background items are a nod to Lara's dual-pistols and an unopened letter from Jacqueline Natla, the antagonist from 1996's Tomb Raider.
Shadow of the Tomb Raider was subject to an unusually high number of leaks:
On October 31st 2016, a Reddit user caught a glimpse of a laptop screen on a subway in Montreal, with a banner image showing a logo for a project titled, "Shadow of the Tomb Raider." The leak indicated that Crystal Dynamics may not be the developer and that Eidos Montreal, developer of video game series' Deus Ex and Thief would be taking over. Eidos Montreal previously worked on the multiplayer for Tomb Raider. However, given that Ian Milham was hired as the new director for Tomb Raider at Crystal Dynamics it is unlikely that Crystal Dynamics won't be the primary developer.
In January 2017, It was announced that Crystal Dynamics were co-developing a game based on Marvel's Avengers series with Eidos Montreal. Crystal Dynamics' community manager Megan Marie, confirmed that Crystal Dynamics "are still very invested in the future of Tomb Raider" confirming their involvement with the development of future Tomb Raider games. In April 2017, Tomb Raider fansite Turning Point, had a Q&A session with Marie, who stated that there would be no Tomb Raider news at E3 2017, though also hinted that there might be news later in the year. [13] However this may have been in reference to the next comic arc to bridge the gap between Rise and the next game.
In June 2017, another possible leak, showing possible logos, and concept art leaked. The concept art showed Lara with what appears to be an Aztec pyramid in the background, which falls in line with the possible setting of Mexico. Lara is also shown wielding a bow, knife and smoke grenades, as well as new weapons, such as a machete and a spear.
Square Enix's December 2017 update had a secret hidden within the text. Taking the first letter from the start of every sentence spells out the word "SHADOW" which implied that the original Reddit leak was legitimate. [14]
The teaser trailer for the game leaked a day ahead of it's scheduled release of March 15th, showing a dense jungle setting and an Aztec pyramid. [15] The trailer confirmed prior leaks such as the title and setting in Mexico.
On April 26, one day before the full reveal of the game, a magazine was leaked online that seemingly revealed that Sam and Reyes would be returning to the series, although Lara's voice actor, Camilla Luddington, said this was not true. [16] It also revealed that the game would have three special editions the Steelbook, the Ultimate Edition and Croft Edition. It also states that the game will have a Seasons Pass. In addition the Ultimate Edition would have a number of exclusive items attached to it, a Statue of Lara, a Bottle Opener that is designed like Lara's climbing Axe and a flashlight. The Ultimate Edition will also include 3 unique outfits and weapons for the game. [17]
This is the fourth Tomb Raider game to feature in Peru after Tomb Raider (1996 Game), Tomb Raider: Legend and Tomb Raider: Anniversary and third Tomb Raider game to feature Mexico as a locale after Tomb Raider: Underworld and Lara Croft and the Guardian of Light.
It has been theorised that the unusually large number of leaks associated with this game were intentional as a form of guerrilla marketing.
A crossover with Final Fantasy XV for Shadow of the Tomb Raider was announced[18]. Whether this crossover will be like other crossovers Final Fantasy XV has had is presently unknown.
The game's launch trailer featured, Lara reading the poem "Because I Could Not Stop For Death" by Emily Dickinson.
References
Edit
↑ 1.0 1.1 1.2 https://www.criticalhit.net/gaming/ten-things-we-learned-about-shadow-of-the-tomb-raider-at-icon-2018/
↑ https://www.facebook.com/TombRaider/photos/a.10150170604461158.301260.287378891157/10155261683181158/?type=3&theater
↑ https://www.facebook.com/TurningPointWEB/photos/a.674660362574689.1073741828.674646725909386/1642036422503740/?type=3&theater
↑ https://twitter.com/tombraider/status/938815473478615040/photo/1?ref_src=twsrc%5Etfw&ref_url=http%3A%2F%2Fcomicbook.com%2Fgaming%2F2017%2F12%2F08%2Fearlier-tomb-raider-announcement-has-hidden-meaning-%2F
↑ https://gadgets.ndtv.com/games/news/shadow-of-the-tomb-raider-collectors-steelbook-croft-edition-leaked-1843531