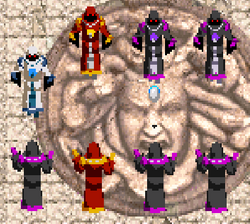 Teg-Du-Bhorez is a group that is about to fulfill a prophecy from the Tome of Ezekiel in Tomb Raider: The Prophecy.
that protected the Magic Stones for centuries, they also watch over the Great Grey One as she sleeps waiting to be woken to fulfill her prophecy of apocalypse. Their headquarters are located in Romania.
The cult was wiped out by Lara Croft, when she tried to prevent the awakening of the Great Grey One.
Appearances
Edit
Ad blocker interference detected!
Wikia is a free-to-use site that makes money from advertising. We have a modified experience for viewers using ad blockers

Wikia is not accessible if you've made further modifications. Remove the custom ad blocker rule(s) and the page will load as expected.