'Shadow of The Tomb Raider' - Official Gameplay Trailer E3 2018
Shadow of the Tomb Raider is the upcoming sequel to Rise of the Tomb Raider, and third and allegedly final installment in the Survivor Timeline.
It is scheduled for release on September 14th, 2018.
The game is planned to have several different editions upon release, each with different bonuses. There are also multiple DLCs planned to be released over the months after the release of the game, which can be purchased at the beginning with a Season Pass.
The game begins one year after Rise of the Tomb Raider. Lara Croft travels to Mexico and later, Peru, in order to stop an apocalyptic event... but ends up setting it into motion herself, accidentally killing scores of innocent people. Wracked with guilt, Lara blames herself for it. Rather than trying to survive, the game's theme is based around Lara making mistakes and facing the consequences; trying to make the world a better place and to understand her place in it.
Trinity is once again involved, and Lara vows vengeance against the organization for what they did to her father.[1] This brings Lara into conflict with one of the leaders of Trinity, a man named Dr. Dominguez.
Characters
Edit
Factions
Edit
Locations
Edit
The game will retain the traditional third-person gameplay of previous entries in the series. More traversal techniques will be returning to the series, such as using a grapple to wallrun and abseil. Swimming will be expanded upon with Lara now able to swim deeper compared to the restrictive swimming in Rise. This is free swimming without a rebreather, with pockets of air highlighted so players can breathe. These indicators can be turned off to make swimming more perilous.[2]
Combat once again features Lara able to carry four weapon types (Bow, Pistol, Shotgun, Rifle/Automatic.) The official trailer appears to indicate that Lara will once again be able to use rope arrows in combat. Stealth also returns, featuring a new mechanic of using mud as a form of camouflage.[3] There will also be enemies in water which can attack Lara while she is swimming. Melee combat may also be expanded upon as Lara will now wield a machete as well as her climbing axe.
Players will be able to change the difficulty of different game aspects, including combat, puzzles, and traversal. For puzzles, Lara will lose her Survival Instinct ability at higher difficulties, while traversable ledges and the like will no longer have their telltale coloring and scuff marks.[2]
Challenge Tombs return, now being larger and more deadly than ever, with each tomb requiring specific traversal techniques to access and solve.
It is also likely that hunting will return and be expanded upon as well as utilizing resources gathered in order to craft upgrades for various weapons and outfits.
The game will reportedly have one of the "biggest hubs ever created in a Tomb Raider game," and "more tombs than ever."[3]
An Immersion Mode will reportedly enable players to turn off English voices for background characters in order to have characters speak in their native languages.[2]
Hints for Plot
Edit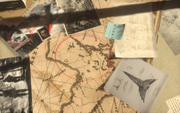 The end of Rise of the Tomb Raider shows a map of the Yucatan Peninsula in Mexico, implying that Lara's next adventure will involve Mayan culture, much like in Lara Croft and the Guardian of Light.
An ID card belonging to Kennard Montez can also be seen beside the map. Montez is an agent of Trinity who Lara had several encounters with during the events of the novel Tomb Raider: The Ten Thousand Immortals. He is also believed to be the man who infiltrated Croft Manor, attempted to assassinate Lara, and stole the book on Kitezh during the early events of Rise of the Tomb Raider.
Starting on March 19th, the official Tomb Raider website launched Shadow of the Tomb Raider: Path of the Stars, a puzzle game to promote the upcoming release of Shadow of the Tomb Raider. A new puzzle is to be added each Monday, leading up to the full reveal on April 27th. When each puzzle is completed 5000 times, a new clue unlocks. So far, there has been two puzzle pieces, and an audio log between Lara and Jonah discussing a clue to a hidden city, however it states that the game will take place in the Amazon rather than Mexico. The second audio file reveals that Trinity are seeking a Creation God. The final puzzle reveals the constellation of Orion.
Development
Edit
Square Enix inadvertently confirmed the game to be in early stages of development as early as at least June 2015, during E3 of that year[4].
In August 2016, Ian Milham, who served as the Art Director for the Dead Space series and Creative Director of Battlefield Hardline, was hired at Crystal Dynamics to serve as the director for the next Tomb Raider game [5]. However, in September 2017, Milham departed from Crystal Dynamics to work in the studio Outpost Games. [6]
It was announced that Rhianna Pratchett would be leaving the Tomb Raider series in January 2017, as such, it is unknown if she contributed to the game.[7]
In December 2017, it was officially announced that a new Tomb Raider game was in development, and news would be shared in 2018. It was also stated that there would be a short window between the official announcement and release of the game. [8]
On March 14th, The Tomb Raider website was changed to show an abstract image of what looked to be a solar eclipse, with the time and date March 15th, 2018, 6:00 AM PDT, confirming the official reveal for that date. [9] The trailer did indeed release as scheduled, offering a release date of September 14th, 2018, as well as an official full length reveal trailer for April 27th.
Camilla Luddington confirmed that she would be returning to portray Lara Croft via her personal Twitter.[10]
The game is being developed for PlayStation 4, Xbox One and PC, launching on all platforms simultaneously.
Shadow of the Tomb Raider was subject to an unusually high number of leaks:
On October 31st 2016, a Reddit user caught a glimpse of a laptop screen on a subway in Montreal, with a banner image showing a logo for a project titled, "Shadow of the Tomb Raider." The leak indicated that Crystal Dynamics may not be the developer and that Eidos Montreal, developer of video game series' Deus Ex and Thief would be taking over. Eidos Montreal previously worked on the multiplayer for Tomb Raider. However, given that Ian Milham was hired as the new director for Tomb Raider at Crystal Dynamics it is unlikely that Crystal Dynamics won't be the primary developer.
In January 2017, It was announced that Crystal Dynamics were co-developing a game based on Marvel's Avengers series with Eidos Montreal. Crystal Dynamics' community manager Megan Marie, confirmed that Crystal Dynamics "are still very invested in the future of Tomb Raider" confirming their involvement with the development of future Tomb Raider games. In April 2017, Tomb Raider fansite Turning Point, had a Q&A session with Marie, who stated that there would be no Tomb Raider news at E3 2017, though also hinted that there might be news later in the year. [11] However this may have been in reference to the next comic arc to bridge the gap between Rise and the next game.
In June 2017, another possible leak, showing possible logos, and concept art leaked. The concept art showed Lara with what appears to be an Aztec pyramid in the background, which falls in line with the possible setting of Mexico. Lara is also shown wielding a bow, knife and smoke grenades, as well as new weapons, such as a machete and a spear.
Square Enix's December 2017 update had a secret hidden within the text. Taking the first letter from the start of every sentence spells out the word "SHADOW" which implied that the original Reddit leak was legitimate. [12]
The teaser trailer for the game leaked a day ahead of it's scheduled release of March 15th, showing a dense jungle setting and an Aztec pyramid. [13] The trailer confirmed prior leaks such as the title and setting in Mexico.
On April 26, one day before the full reveal of the game, a magazine was leaked online that seemingly revealed that Sam and Reyes would be returning to the series, although Lara's voice actor, Camilla Luddington, said this was not true. [14] It also revealed that the game would have three special editions the Steelbook, the Ultimate Edition and Croft Edition. It also states that the game will have a Seasons Pass. In addition the Ultimate Edition would have a number of exclusive items attached to it, a Statue of Lara, a Bottle Opener that is designed like Lara's climbing Axe and a flashlight. The Ultimate Edition will also include 3 unique outfits and weapons for the game. [15]
References
Edit
↑ http://www.gameinformer.com/b/features/archive/2018/04/27/six-things-we-learned-while-playing-shadow-of-the-tomb-raider.aspx
↑ 2.0 2.1 2.2 https://www.criticalhit.net/gaming/ten-things-we-learned-about-shadow-of-the-tomb-raider-at-icon-2018/
↑ https://www.facebook.com/TombRaider/photos/a.10150170604461158.301260.287378891157/10155261683181158/?type=3&theater
↑ https://www.facebook.com/TurningPointWEB/photos/a.674660362574689.1073741828.674646725909386/1642036422503740/?type=3&theater
↑ https://twitter.com/tombraider/status/938815473478615040/photo/1?ref_src=twsrc%5Etfw&ref_url=http%3A%2F%2Fcomicbook.com%2Fgaming%2F2017%2F12%2F08%2Fearlier-tomb-raider-announcement-has-hidden-meaning-%2F
↑ https://gadgets.ndtv.com/games/news/shadow-of-the-tomb-raider-collectors-steelbook-croft-edition-leaked-1843531