Tomb Raider 12 is the upcoming sequel to Rise of the Tomb Raider, and third game in the Survivor Timeline.
Not much is known about the plot but it is likely that a more skilled and deadly Lara will continue to oppose Trinity, while seeking more secrets of the past.
Characters
Edit
To be added...
To be added...
Gameplay
Edit
The game is expected to retain the traditional third person gameplay of previous entries in the series. Combat is likely to be refined and some fans have asked for improvements to the melee combat system. The game may feature more traditional puzzle and exploration for key items of the original games as well as the physics based puzzles of more modern games. It is also likely that hunting will return and be expanded upon as well as using resources gather to craft upgrades.
It is believed that game will feature hub areas much larger than those featured in Rise of the Tomb Raider, or be more densely packed with challenges and Tombs. Some fans believe the game may feature an open world, or return to the series roots of being set in multiple geographic locations around the globe.
Possible Hints for Plot
Edit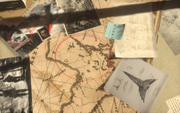 The end of Rise of the Tomb Raider shows a map which seems seems to imply that the game may be set in Yucatan Peninsula in Mexico, much like Lara Croft and the Guardian of Light.
The first game in the survivor timeline ended with Lara reading a journal looking at a page with the word "Croatoan" written on top of the page. It's possible that Lara may be looking into the lost colony of Roanoke.
The map also shows an ID card belonging to Kennard Montez, an agent of Trinity, who Lara had several encounters with during the events of the novel Tomb Raider: The Ten Thousand Immortals, he is also believed to be the man who broke into Croft Manor, attempted to kill Lara and stole the book on Kitezh, during the beginning of Rise of the Tomb Raider.
Development
Edit
Square Enix inadvertently confirmed the game to be in early stages of development as early as at least June 2015. during E3 of that year[1].
In August 2016 it was confirmed that the game would be directed by Ian Milham, who served as the Art Director for the Dead Space series and Creative Director of Battlefield Hardline [2]. However in September 2017, Milham departed from Crystal Dynamics to work in the studio Outpost Games. [3]
It was announced that Rhianna Pratchett would be leaving the Tomb Raider series in January 2017, as such it is unknown if she contributed to the game.[4]
It is currently unknown whether Camilla Luddington will reprise her role as Lara Croft.
Possible Leaks
Edit
A reddit user caught a glimpse of a laptop screen on a subway on October 31st 2016, with a banner image showing a logo for a project titled, "Shadow of the Tomb Raider".
The leak indicated that Crystal Dynamics may not be the developer and that Eidos Montreal, developer of video game series' Deus Ex and Thief would be taking over. Eidos Montreal previously worked on the multiplayer for Tomb Raider. However, given that Ian Milham was hired as the new director for Tomb Raider at Crystal Dynamics it is unlikely that Crystal Dynamics won't be the primary developer.
In January 2017, It was announced that Crystal Dynamics were co-developing a game based on Marvel's Avengers series with Eidos Montreal. Crystal Dynamics' community manager Megan Marie, confirmed that Crystal Dynamics "are still very invested in the future of Tomb Raider" confirming their involvement with the development of future Tomb Raider games. In April 2017, Tomb Raider fansite Turning Point, had a Q&A session with Marie, who stated that there would be no Tomb Raider news at E3 2017, though also hinted that there might be news later in the year.
[5]
However this may have been in reference to the next comic arc to bridge the gap between Rise and the next game.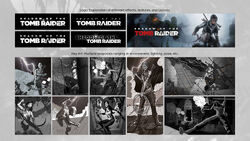 In June 2017, another possible leak, showing possible logos, and concept art leaked. The concept art showed Lara with what appears to be an Aztec pyramid in the background, which falls in line with the possible setting of Mexico. Lara is also shown wielding a bow, knife and smoke grenades, as well as new weapons, such as a machete and a spear.
References
Edit
Ad blocker interference detected!
Wikia is a free-to-use site that makes money from advertising. We have a modified experience for viewers using ad blockers

Wikia is not accessible if you've made further modifications. Remove the custom ad blocker rule(s) and the page will load as expected.