Lara Croft's popularity has led to many appearances and references in other media.
Hitman: Absolution
Edit
In the 2012 game, Hitman: Absolution, in the mission "Birdie's Gift" mats can be found around the shooting range with the brand "Croft".
Life is Strange
Edit
In the adventure game Life is Strange, also created by Square Enix, there is a reference to a "Kroft Gallery", which is owned by a woman called "Amanda Kroft". There are several other references to the Tomb Raider Games.
Murdered: Soul Suspect
Edit
In the game Murdered: Soul Suspect, reading the minds of civilians may reveal them wondering. "What is that game with the woman who raids the tombs?"
In the video game Primal there is a cemetery on the world Artha where you can find a headstone inscribed with "R.I.P. Laura Cruft 2003". This may be a reference to The Angel of Darkness, whose release date had been postponed several times until it finally reached stores on July, 1st. (There is a screenshot in the Primal article.)
Shadow Warrior
Edit
Lara Croft can be seen chained in a dungeon in the Shadow Warrior game. In the beta version of Shadow Warrior, Lara was in much rougher shape, and it was replaced with the classic look in the final game.
The Simpsons
Edit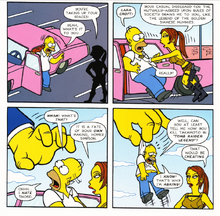 Lara made a cameo appearance in Issue #164 of The Simpsons Comics by Bongo.
Homer asks her how to defeat Takamoto in Tomb Raider: Legend. Lara tells him that would be cheating.
Wreck-It Ralph
Edit
While not appearing in person, the lead Character Ralph, sarcastically claims he is Lara Croft when he is stopped at a security check.
Ad blocker interference detected!
Wikia is a free-to-use site that makes money from advertising. We have a modified experience for viewers using ad blockers

Wikia is not accessible if you've made further modifications. Remove the custom ad blocker rule(s) and the page will load as expected.