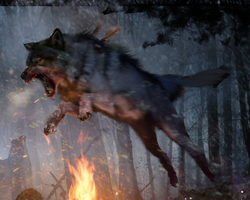 Wolves are enemies in the Tomb Raider Series.
They are similar in biology to dogs, but are generally found in the wild and not utilised by humans, with the exception being the Solarii Brotherhood.
Appearance
Edit
They are grey, four legged animals in the dog family. They have sharp teeth for savaging and tearing flesh.
They will charge and jump at Lara, knocking her back. They will bite and scratch Lara and can be severely damaging. They don't take very much fire power to take down, four pistol shots in Tomb Raider and slightly more in Golden Mask. In both, they're always sleeping and when Lara's nearby, they'll wake up and attack her or pace around until they're able to bite Lara close up.
In-Game Appearances
Edit
Tomb Raider: Featuring Lara Croft
Edit
Tomb Raider II: Golden Mask
Edit
Tomb Raider: The Prophecy
Edit
Tomb Raider
Edit
Rise of the Tomb Raider
Edit
Appearances
Edit
Ad blocker interference detected!
Wikia is a free-to-use site that makes money from advertising. We have a modified experience for viewers using ad blockers

Wikia is not accessible if you've made further modifications. Remove the custom ad blocker rule(s) and the page will load as expected.